| | |
| --- | --- |
| Mother | Margaret Rogers |
| Father | Barry Rogers |
| Brother | Michael Rogers |
| Ex-Husband | Mel Metcalfe |
| Wife/ Spouse | Ellen DeGeners |
| Ex-Girlfriend | Francesca Gregorini |
| Grandfather | Raymond Arthur James Rogers(paternal) |
| Great Grandfather | James Henry Rogers |
| Great Grandmother | Harriet Rogers |
| Grand aunt | Elva Lily Wilkinson |
| Grand uncle | Ronald Walter Rogers |
| Mother In-law | Elizabeth Jane DeGeneres |
| Father In-law | Elliott Everett DeGeneres |
| Brother In-law | Vance DeGeneres |
Portia de Rossi is an Australian American actress, model, philanthropist among other things. She is the spouse of popular TV host & comedian Ellen DeGeneres. Portia is known for her popular roles such as- Nelle Porter in Ally McBeal, Lindsay Bluth Fünke in Arrested Development , Elizabeth North in Scandal, Olivia Lord in Nip/Tuck, Veronica Palmer in Better Off Ted. She is the winner of Screen Actors Guild Award
Portia Lee James DeGeneres was born Amanda Lee Rogers on 31st January 1973 in Horsham, Victoria, Australia to Margaret Rogers- a medical receptionist & Barry Rogers.
She changed her name to Portia at the age of 15, it is the name of a character from William Shakespeare's play 'The Merchant of Venice'.
Portia de Rossi Parents
FATHER
Barry Rogers: Barry James Rogers , Portia's father Barry died when she was just 9 years old. He was a popular and well respected man, he was thinking of running for Mayor but died accidentally. He was the son of Raymond Arthur James Rogers. He was born in 1937, died in 1982.
MOTHER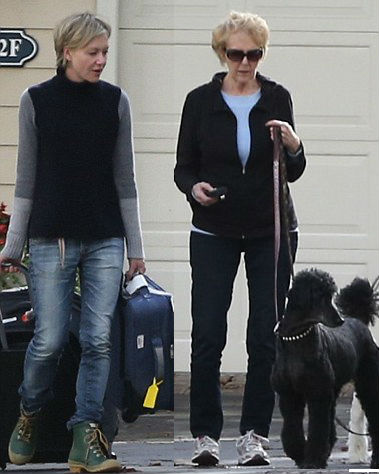 Image: Portia de Rossi with mother Margaret Rogers
Margaret Rogers- Portia's mother Margaret works as a medical receptionist, Margaret attended Portia's wedding to Ellen DeGeneres in 2008
BROTHER
Michael Rogers- Michael is the only brother of Portia, he is the father of two girls Eva & Perry Rogers through Casey Rogers. Casey Rogers is her sister in-law.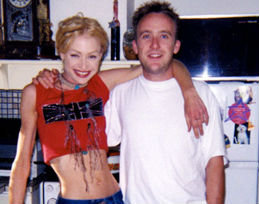 Image: Portia de Rossi with brother Michael Rogers
GRANDFATHER
Raymond Arthur James Rogers- Portia's paternal grandfather Raymond was born in 1906 to James Henry Rogers & Harriet Rogers in Australia, he died in 1972 at the age of 66
Portia de Rossi Romances/ Love Affairs/ Girlfriends
Husband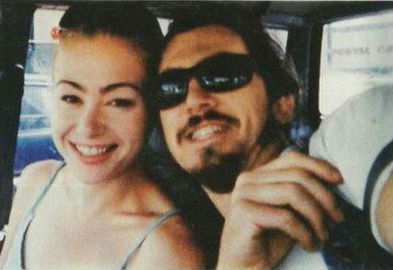 Image: Portia de Rossi with Mel Metcalfe
Mel Metcalfe- Portia was married to documentary film maker Mel Metcalfe from 1996 to 1999, it was a marriage arranged for the sake of green card, however she did not go that route for her green card.
GIRLFRIEND
Francesca Gregorini: Portia dated the Italian-American director & writer Francesca from 2001-2004. It was during this time that Portia's family, her fans and colleagues found out that she was a lesbian. The relationship ended when Portia got in a relationship with Ellen DeGeneres. Portia has sung vocals in Francesca's album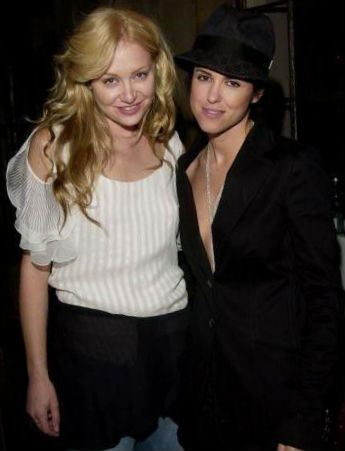 Image: Portia de Rossi & Francesca Gregorini
SPOUSE/ WIFE
Ellen DeGeneres- Portia met comedian/ actress/ TV Host Ellen DeGeners at the backstage of an award event. Their relationship started in 2005, Ellen proposed to Portia in 2008 & got engaged. They got married on 16th August 2008 in their Beverly Hills home. The event was attended by their mothers & close friends. Portia changed her named to Portia Lee James DeGeneres past her marriage to Ellen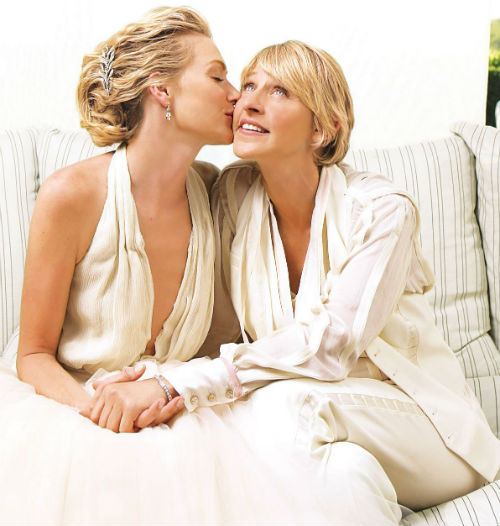 Image: Portia de Rossi & Ellen DeGeneres
Portia de Rossi In-Laws
MOTHER IN-LAW
Image: Portia de Rossi with Ellen & Mother In-law Elizabeth Jane DeGeneres
Elizabeth Jane DeGeneres- Ellen's mother Elizabeth is an LGBT rights activist , she is a former speech therapist. She is an active member of Parents, Families and Friends of Lesbians and Gays (PFLAG). She is popular for her support to Ellen on her coming out as a lesbian.
FATHER IN-LAW
Elliott Everett DeGeneres- Ellen's father Elliot died in 2018 , he was an insurance agent
BROTHER IN LAW
Vance DeGeneres- Vance is an actor, comedian, musician, producer.. He has worked on various TV serials and is known for TV appearances. He is married to Joanna DeGeneres. Previously married to Mimi DeGeneres.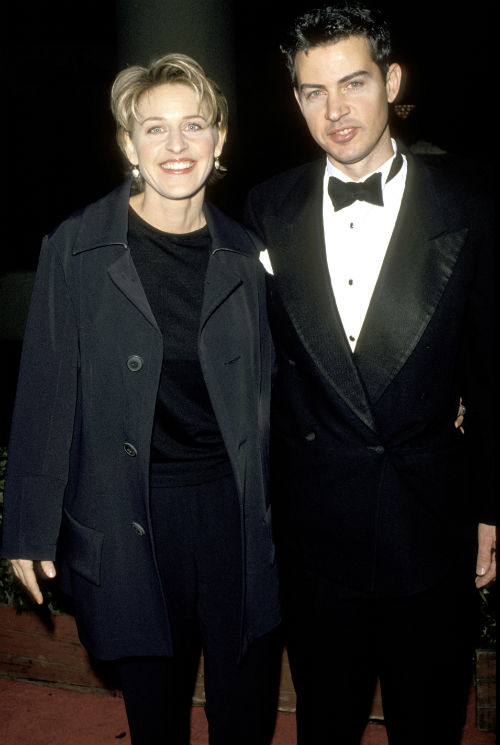 Image: Vance DeGeneres & Ellen DeGeneres