Mother
Penny Hess
Father
Pete Rockwell
Girlfriends

Leslie Bibb

Drew Barrymore (Ex)

Piper Perabo (Ex)

Grandfather

John Hobart Rockwell, Jr. (Paternal)

Grandmother

Phyllis V. Rockwell (Paternal)

Great Grandfather

James Joseph Butler

John Hobart Rockwell, Sr.

Great Grandmother

Irene Mary Butler

Mary Margaret Rockwell
Sam Rockwell is an American actor, producer. Sam Rockwell is an academy award winner for his role in " Three Billboards Outside Ebbing, Missouri" . Sam is known for playing roles such as- Sam Bell In "Moon", Dixon in "Three Billboards Outside Ebbing, Missouri", Billy in "Seven Psychopaths", Chuck Barris in "Confessions of a Dangerous Mind" , Justin Hammer In "Iron Man", Captain Klenzendorf in "Jojo Rabbit", Bob Fosse in "Fosse/Verdon", Wild Bill in "The Green Mile", George W. Bush in "Vice", Francis in "Mr. Right", Eric Knox in "Charlie's Angels" among others.
Sam Rockwell e was born on 5th November 1968 in Daly City, California, United States to actor Pete Rockwell & wife Penny Hess- an actress.
Sam Rockwell Parents
Sam was brought up both his parents, his parents divorced when he was 5 years old. His parents introduced him to acting
FATHER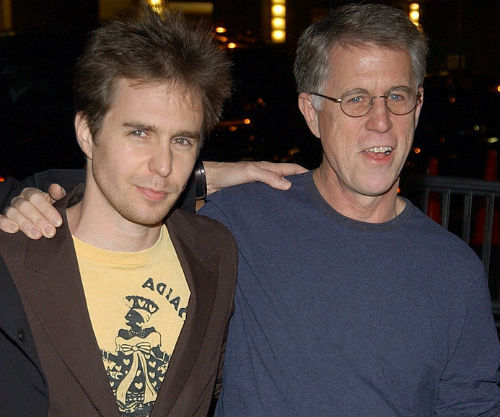 Image: Sam Rockwell's Father Pete Rockwell
Pete Rockwell- Pete is an artist, Pete raised Sam in San Francisco when he and his wife split up in 1973 (they eventually divorced in 1979).
Pete Rockwell was born Peter Joseph Rockwell in 1946 to John Hobart Rockwell, Jr. & Phyllis V. Rockwell, he has appeared in movies such as "Changeling", "Frost/Nixon", "The Club of Unique and Lonely Minds", "Black Box" , "To Hell and Gone", "Don Verdean" among others
MOTHER
Penny Hess- Penny Hess, the mother of Sam Rockwell is an artist herself; she took him to East Village improv comedy at the age of 10 to teach acting. While Sam lived with his father in San Fracisco, Sam lived with mother Penny in the summers
Sam's mother's full name is Penelope Ann Hess, she goes by "Penny Hess"
Sam Rockwell Siblings
Sam Rockwell is the only child of his parents, he doesn't have any other siblings
Sam Rockwell Grandparents
Grandfather
John Hobart Rockwell, Jr. – was born in 1919 , He was called by the name "Hobie". He was the son of John Hobart Rockwell, Sr. and Mary Margaret Rockwell, he died in 1956 in Fallon, Churchill County, Nevada, United States from a plane crash
Grandmother
Phyllis V. Rockwell- Phyllis, the paternal grandfather of Sam was born in 1919 in San Francisco, California, United States as the daughter of James Joseph Butler & Irene Mary Butler. She had 2 siblings in Sanford J. Butler & John Butler. She died in 1999 at San Rafael, California, United States and is buried at San Bruno, San Mateo County, California, United States.
Sam Rockwell Girlfriends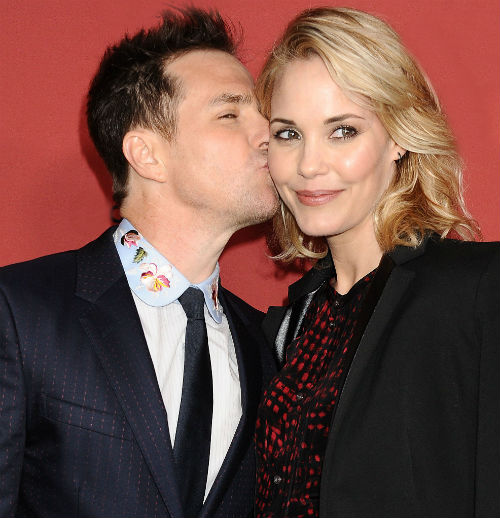 Image: Sam Rockwell & Leslie Bibb
Leslie Bibb- Sam met actress Leslie Bibb when he was in Los Angeles during the filming of the Movie Frost/ Nixon. The two have been dating since then. The couple has appeared together in projects such as- "Iron Man 2" & "Don Verdean"
Leslie had been previously married to Rob Born from 2003-2004. Leslie was born in 1974 in Bismarck, North Dakota, United States. She is the youngest of 4 sisters. Her mother is Betty Blakemore Sulzbach and she has a sister in Christa Bibb.
When asked how a relationship can last that long in Hollywood, Leslie jokingly attributes their strong decade long relationship to "Good Sex"
Drew Barrymore- It is believed that Sam Rockwell & Drew Barrymore had a brief encounter in 2002.
Piper Perabo- It is believed that actress Piper and Sam hooked up in 2009.
Sam Rockwell Children
Sam Rockwell isn't married and doesn't have children, when the matter of children came up in an interview with the Guardian, he stated- "I definitely don't want to become a parent. It's not my bag. It's weird, I don't get children, I don't quite understand it. I think being an only child means you learn to live in your own world But also, children are a lot of work. I have so much respect for parents. I suppose the end result is I feel I have too much to do."
Sam Rockwell Relatives
Cousin
Aaron Rockwell- Aaron is the cousin of Sam Rockwell, he has worked in the movie production units of "Two Men in Suits", Leave It on the Floor", "American Homestead", "Snow" among others. He is a San Francisco State University graduate
Distant Relative
George W Bush- Sam plays GWB in the movie Vice, it was discovered by the Ancestry.com website that George W Bush & Sam Rockwell are actually distant relatives. They are 8th cousins once removed, they had a common ancestor in Jacob Decker who lived from 1671-1761.